How to get more credibility, tap into HUGE funnels of traffic, and GET MORE EYEBALLS TO YOUR SITE(s)…
WITHOUT

Having to Pay a PENNY!

Dear Friend:


The problem is… sometimes it can be HARD to get traffic to your sites. Or your clients' sites.I'm sure you can imagine how important traffic is to your bottom line.
You spend days on SEO, only to get "Google Slapped"…
You can spend countless dollars on PPC, only to waste money…
You sure don't see many articles at the top of search engines any more…
Social media works reasonably well… but you've got to keep posting. If you lose momentum you can say goodbye to your traffic.
All of this is FRUSTRATING.
I've personally easily spent thousands of dollars on failed traffic sources – whether it be PPC, ebooks, or software that didn't work (or I couldn't understand).
…but for a while, I didn't know what I could do.
So the first time I "accidentally" stumbled upon getting publicity, I was freaking PUMPED!
I had no idea why, but an editor from the 50th most circulated magazine in the U.S. contacted me out of nowhere.
She asked me a few questions, I answered them, and literally 2 days after her first email she offered to fly me out to L.A. so I could be a cover story of a magazine.
It was AMAZING!
That first time was 4 years ago, and I STILL have people Googling my name from it.

I ended up getting so much traffic to the site the magazine promoted that I was able to flip it and make $50,000.
That might not be a TON of money to some, but I was pretty ecstatic. The money enabled me to live in Rio de Janeiro for 3 months.
And the whole experience got me "hooked" on media. I started learning how to actually CREATE it so I could get even more publicity.
Sounds crazy I know, but…
I've learned – and will show you:
The exact script you can send to media outlets to get them VERY excited about promoting you…
The types of media and publicity you should target…
How to stand out from all the other people who are vying for publicity…
How to create a following of people who LOVE you…
The specific site that'll basically cherry-pick the best media outlets for you…
Exact content to give people to whet their appetite and make them want to come back for more…
My "story" strategy that gets people VERY emotionally invested in you…
How to get journalists foaming at the mouth to promote you…
How you can find journalists who are looking for you! You don't even need to sell yourself to them… there are sites where reporters are near-BEGGING for YOU!
A lot of people go about this all the wrong way.
They come off looking extremely desperate and journalists can smell it a million miles away.
But when you follow the strategies I outline, I can near-guarantee you'll have MUCH better success.
I'm not trying to come across as "sensational" – it's just that I've verified this with people I know in public relations.
And as you can guess, publicity is NOT just important for traffic.
I won't count traffic as one of the 5… but may I remind you that with media you're literally tapping into media streams that have thousands, if not MILLIONS, of readers.

Sell this service to offline clients. This works for ANY type of business. The media outlet might change, but the service is still extremely invaluable.And you can charge a premium for it.
Build up your credibility. When I used to go to seminars, everyone thought I was someone's virtual assistant. When I began to mention some of my media accolades, all of a sudden people wanted to listen to me. I got an "in" with the experts. When you're in the media, you're suddenly positioned as an expert.
Put an "As Seen On" on all of your website materials. I can't tell you how much my "As Seen On" Woman's World, Entrepreneur, and Fox News has increased my conversions.
Build businesses, get media, and flip them! If you're able to get enough media to your site, you can get customers quickly and then turn around and sell the business. I'm not saying this will happen in EVERY case… but it did happen to me, and I netted $50,000 because of it.
DOUBLE YOUR RATES! Being in the media will increase your "authority" percentage by a LOT. In many cases it would be completely warranted for you to immediately double what you're charging… just because of the places you've been featured.
And the crazy thing about all of this… is not only is this free, but in some cases they pay YOU for it!!!
When I did my cover story, I was paid for appearing in the story, got flown to L.A., was picked up by a Lincoln Town Car, got sent to a studio with tons of goodies and snacks, and had a stylist pick clothes for me… which I got to keep!
Not shabby.
So with all that said, I've decided to put together a course that shares some of my BEST strategies with you… so that hopefully you can replicate some of my successes.
I really, really, REALLY love overdelivering. I get super excited when people say nice things about the products I create, and even MORE excited when it helps them make money.
That being said…
This course gives you a TON of information about how to get publicity online.
I've put my heart and soul into this course and think you'll get a LOT out of it.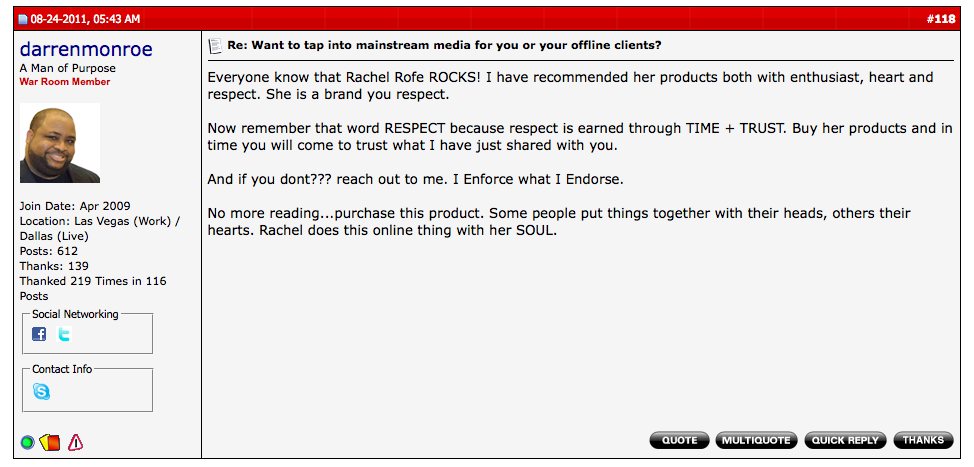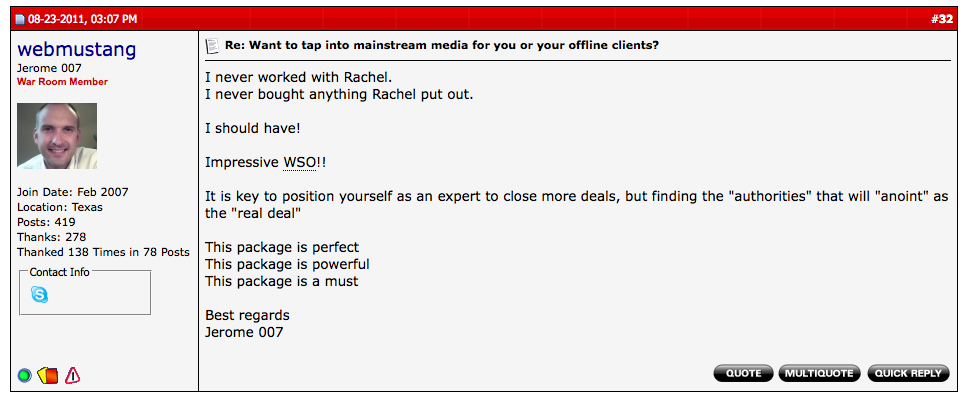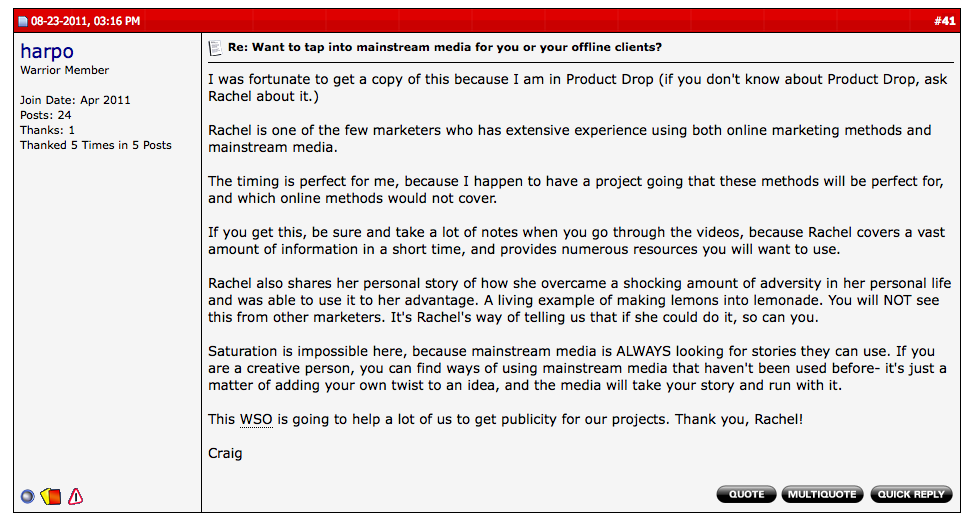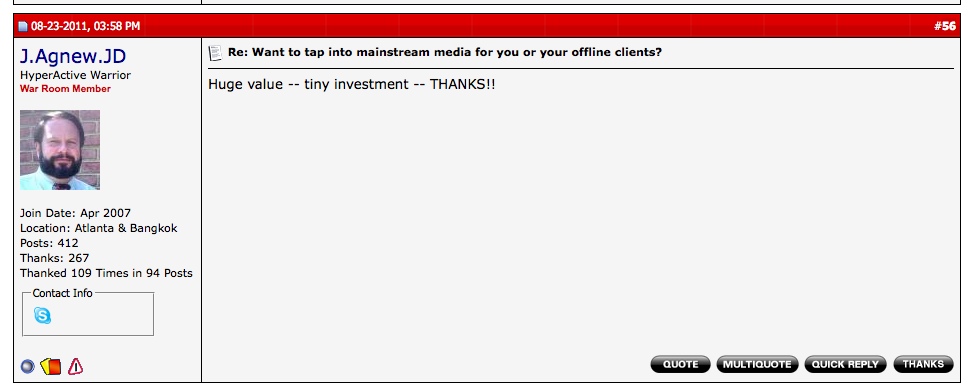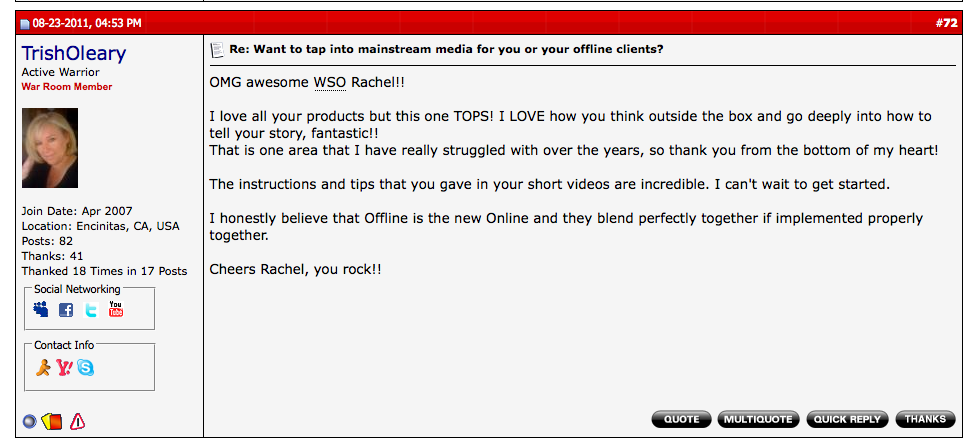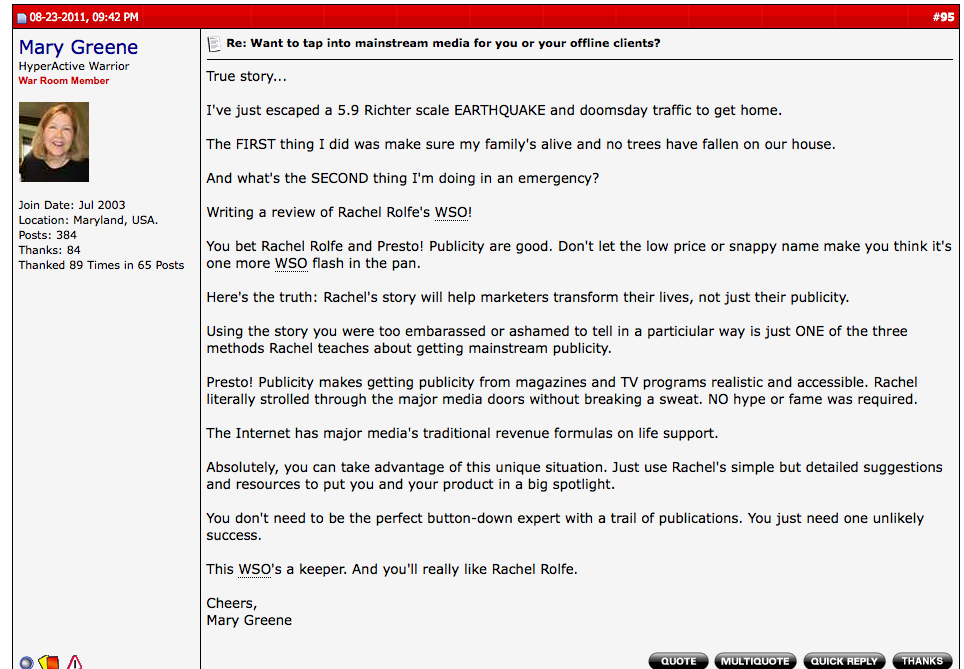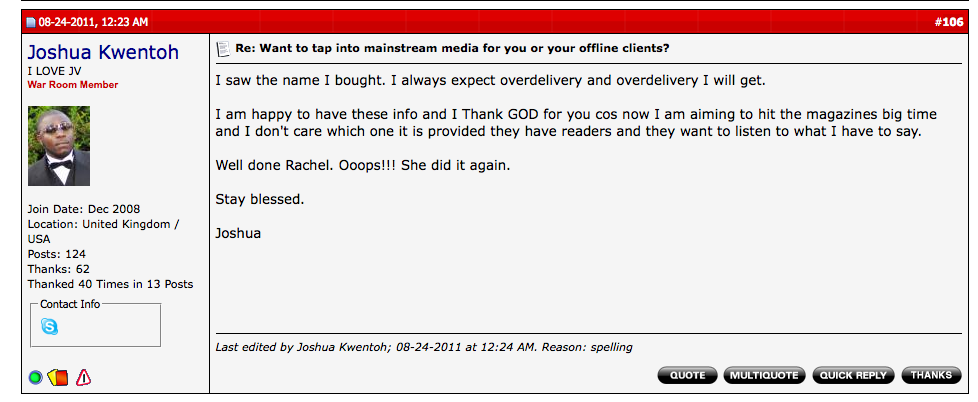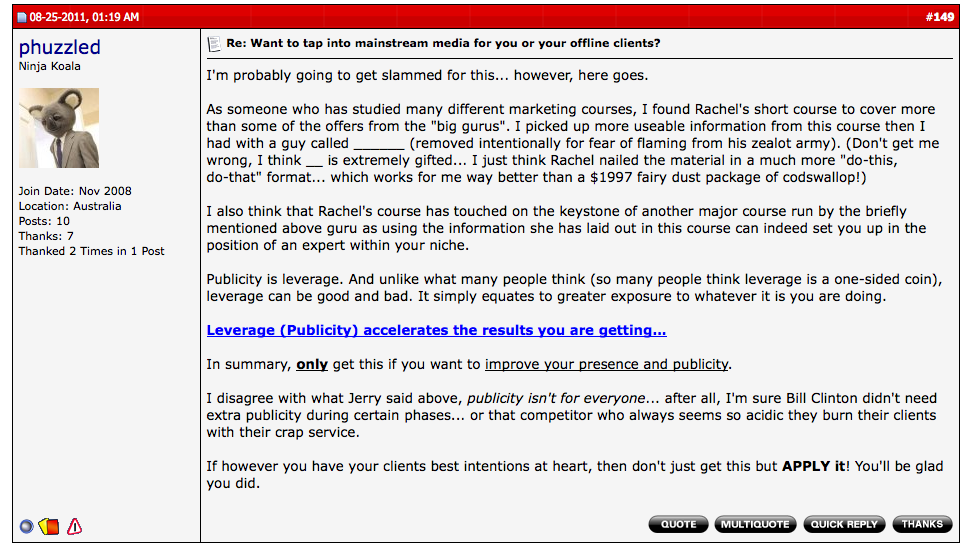 As you can see, people are LOVING this course.
Bottom line: You're getting a deal…
Here's why…It took me YEARS to figure this stuff out.
I tested a lot of things and was the one who had to risk looking like a fool.
Now you're going to get the exact blueprint that got me on Entrepreneur and Fox News.
I gave up a LOT of information.
Here's A Tour Of The Thank You Page:
Please excuse my sniffle, I've got a cold!
I'd like to make one thing clear: even though there are a lot of modules, I do NOT enjoy "fluff" content. Most of the videos are under 5 minutes long. One of them is just about 20.
I like to get RIGHT TO THE POINT because I know we're all busy.
Then I follow up with great support for people who have questions!
I'd also like to be clear about this: this is in NO WAY a "definitive bible" for publicity. This is more MY story, what I've done to get publicity, and how it's worked for me.
I have done my best to explain, and you'll see there's a bonus Q+A webinar if you have questions after that.
I just want you to be very clear about what your expectations are.
With that said – after you see the price, your next question will probably be:
The fact is… I love to overdeliver.
I really like going over-the-top, so I decided to create this at a can't-say-no price because I want it to reach as many people as possible.
Plus, I will always treat you the way I want to be treated which is with love, trust, joy, and pure awesomeness.

Alright… it's now time to take action…
The next step is very simple…
You're going to get everything within a minute or so after purchasing… all 9 module videos – AND then the mp3′s and transcripts.
You'll get everything… no waiting!
So click on the "ADD TO CART" button below…
I'll see you on the inside!

With love,
Rachel Rofe
P.S. I guarantee you haven't seen anything like this before. I think you're going to get a LOT out of it. And with the guarantee, you have absolutely nothing to lose. So… order your copy right now!